Organizing your
Markdown notes
made simple.
With 100+ plugins, cross-platform and encrypted data sync support
Solely designed for Markdown to improve your dev workflow
Get a low-friction personal note-taking workflow and accomplish more. With your notes well-organized effortlessly, you can stay focused on doing your best work.
A versatile Markdown editor
It comes with multi-language code highlighting, multi-cursors, line numbers, scrolling beyond the last line, showing invisible characters and more.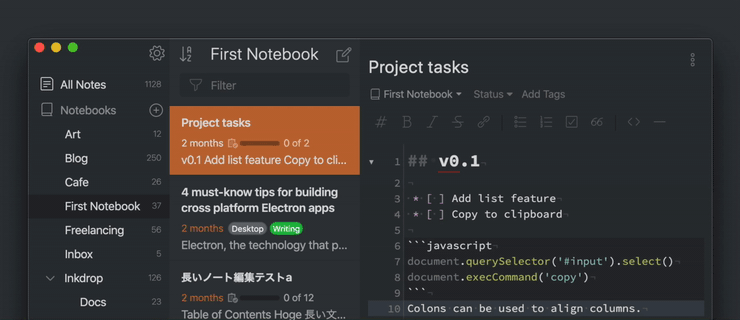 Focus on the work that matters
An intuitive and clean user interface and 'Distraction free mode' don't distract you from the text.
Get things done
Track your work progress with note status and task progress view in the note list.
Never lose your ideas
Whenever, even while in offline, you can read and write notes. Just open up the app, then it will be instantly ready for you to start jotting down before you forget the idea.
Work with developer-focused features
With its high customizability, extensibility and 100+ plugins, it will stick with your workflow and improve your productivity.
At work, at home, and everywhere in between
Have it everywhere, securely
Capture a note once, and it's instantly available on all your devices. It syncs data securely with end-to-end encryption.
Never lose your work
Accidentally deleted lines? You can restore them from the revision history. A seamless backup keeps your notes safely stored in your local filesystem.
Optional self-hosted database
If you don't trust anyone with your data, you can set up your own CouchDB server to store your data instead of the Inkdrop server.
Trusted by developers around the worldSee more
Blog posts
I'm sharing most of my experiences on this product.